If you are creating content and want to maximise your conversions, then using a combination of these 531powerful copywriting words could help.
Verb power words
A verb is a word used to describe an action, state, or occurrence, and forms the main part of the predicate of a sentence, such as hear, become, or happen.
Boost
Advance
Amplify
Augment
Climb the ranks
Double/triple
Elevate
Enhance
Expand
Extend
Fire up
Further
Gain ground
Ignite
Increase
Jumpstart
Level up
Lift
Make strides
Move the needle
Multiply
Pick up
Polish
Raise
Ramp-up
Scale
Skyrocket
Spark
Take off
Touch up
Wake up
Widen
Check out
Browse through
Borrow
Consider
Dabble
Dip your toes in
Dive into
Explore
Get your feet wet
Give these a shot
Implement
Incorporate
Have a look-see
Have you seen?
Head on over to
Meet
Peruse
Steal
Take a gander
Take a look at
Take a page out of
Take in
Engage
Activate
Attract
Catch their eye
Enthral
Excite
Draw
Impress
Inspire
Intrigue
Invite
Motivate
Spark
Spur to action
Sweep off their feet
Take that first step
Wake up
Wow
Improve
Brush up on
Correct/course-correct
Fine-tune
Fix
Fortify
Hone
Level up
Makeover
Mend
Polish up
Recover
Refine
Regain
Renew
Reset
Revamp
Reverse
Revitalise
Straighten out
Shape up
Sharpen
Step up
Strengthen
Touch up
Turn around
Turn the corner
Upgrade
Provide
Break down
Coming at you with
Cover
Deliver
Discuss
Dish out
Dissect
Examine
Explore
Fill you in
Hand out
Hand over
Reveal
Run through
Share
Spill
Suggest
Talk about
Unleash
Walk you through
Stop
Avoid
Break up with
Crackdown on
Eliminate
Eradicate
Freeze in tracks
Halt
Kick out
Prevent
Put an end to
Put the kibosh on
Say goodbye to
Say no to
Side-step
Squash
Take a break from
Tamp down on
Succeed
Access
Achieve
Beat
Break down barriers
Capture
Conquer
Crush
Defeat
Dominate
Flourish
Fulfil
Gain ground
Get the hang of
Grow
Lock-in
Master
Make it
Nail it
Outperform
Outrank
Outshine
Prevail
Prosper
Pull-off
Satisfy
Secure
Reach
Realise
Victory
Win
Miscellaneous empowering verbs
Arm yourself
Bring on
Combat
Command
Control
Deflate
Demolish
Destroy
Dodge
Ditch
Evade
Escape
Manoeuvre
Navigate
Tame
Take back
Take hold of
Take on
Wrangle
More power verbs
Activate
Attract
Avoid
Check under the hood
Crave
Deter
Discover
Drive
Employ
Energise
Illuminate
Grab
Gratify
Hook
Juggle
Lack
Manoeuvre
Raise the standards
Remix
Strike
Navigate
Nourish
Reflect
Rethink
Save
Sprint
Take advantage of
Adjective power words
Adjectives are words that describe the qualities or states of being of nouns. They can also describe the number of nouns.
Best in class
Aptitude
At last
High standards
High-calibre
In our own category
Experts in
One of a kind
Prowess
Top-notch
Unbeatable
Unmatched
Unparalleled
Unrivalled
Unstoppable
Daunting
Arduous
Bane of your existence
Burden
Challenging
Complicated
Cumbersome
David and Goliath
Demanding
Discouraging
Dreadful
Gnarly
Hefty
Herding cats
Intimidating
Looming
No easy feat
Overwhelming
Scary
Slog
Strenuous
Struggle
Tedious
Trek
Easy
Breeze
X clicks away
Digestible
Direct
Doesn't have to be hard
Drop your info
Easier than you think
Effortlessly
Faster than you can say
Hassle-free
In 5 minutes or less
In a cinch
In a day
In a flash
Inexpensive
No-nonsense
Plain-English
Quickly
Seamless
Simplified
Smooth
Walk in the park
With your eyes closed
Within reach
Without the hassle
Effective
Actionable
Battle-tested
Data-backed
Expert-approved
Fail-proof
Fool-proof
Future-proof
Indispensable
Like a pro
Practical
Pragmatic
Proven
Real-world
Solid
That we swear by
Tried and true
Uncontested
Useful
Fast
Activate
Before tickets run out
Before your next
Before you even have time to
By the time you
Faster than you can say
Glance
Grab your copy
In a jiff
In one click
In the blink of an eye
In the time it takes you to
Instantly
Let's move
Lightning
X-minute guide/ in X minutes
Moment
Now
Protect
Stop by
Stop in
Swipe
This week only
Today only
Great
Brilliant
Clickable
Favourite
Indispensable
Key
Killer
Lucrative
Must-have/must-read/must-try
Non-negotiable
Irresistible
Popular
Promising
That work
Undeletable
Unsubscribe-proof
Winning
Worthwhile/
[Drool/etc]-worthy
Important
Cardinal
Centre of/central
Core
Crux
Crucial
Essential
Foundational
Game-changing
Imperative
Key
Keystone
Linchpin
Mainstay
Necessary
Paramount
Priority
Staple
Top of your list
Vital
Innovative
A step ahead
Adventurous
Ahead of the game
Brave
Brilliant
Break tradition
Bright
Clever
Customary
Enterprising
Forward-thinking
Frontier
Imaginative
Ingenious
Inventive
Leading
Masterminds
Original
Pioneers
Proprietary
Patented
Redefining
Talented
Uncharted
Unconventional
Ultimate
A-Z
All-in-one
Complete
Comprehensive
Definitive
Drop everything
Epic
Finally
Indispensable
Last/only you'll ever need
Official
Soup to nuts
You've always wanted
You've been waiting for
Unique
The beat of your own drum
Clever
Crafty
Creative
Different
Eccentric
Extraordinary
Lesser-used
Non-generic
Not your average
Offbeat
Outside the box
Quirky
Sneaky
Uncommon
Weird
Whimsical
Miscellaneous power adjectives
Bold
Cathartic
Contagious
Curated
Electric
Endearing
Fresh
Genuine
Hand-picked
Humbling
Ideal
Magnetic
Underrated
Power adverbs
An adverb is a word or phrase that modifies or qualifies an adjective, verb, or other adverb or a word group, expressing a relation of place, time, circumstance, manner, cause, degree, etc.
Actually
Alarmingly
Curiously
Deliciously
Downright
Ferociously
Hands down
Incredibly
Infinitely
Interestingly
Refreshingly
Relentlessly
Ridiculously
Surprisingly
Truly
Undeniably
Unquestionably
Power nouns
A noun is a word (other than a pronoun) used to identify any of a class of people, places, or things ( common noun ), or to name a particular one of these ( proper noun ).
Guide
Action plan
Calendar
Cheat sheet
Checklist
Full scoop
Game plan
Handbook
Hidden gems
Inside scoop
Playbook
Pocket guide
Quick start guide
Rulebook
Shortcuts
Starter kit
Survival guide
Toolkit
Sale
Bargain
Bonus
Deal
Giveaway
Offer
Marathon
Opportunity
Promotion
Special
Treat
Strategies
Approaches
Clues
Formulas
Hints
Ideas
Ingredients
Intel
Methods
Ploys
Pointers
Predictions
Secrets
Shortcuts
Signs
Steps
Suggestions
Tactics
Techniques
Tips
Tricks
Ways
Words of advice
Miscellaneous nouns
Breath of fresh air
Bridge
Catalyst
Guesswork
Inside track
Music to their ears
Secret sauce
Secret weapon
Pain point power words
Boring
Clunky
Confusing
Cumbersome
Dependent
Difficult
Draining
Exhausting
Expensive
Gimmicks
Lacklustre
Limited
Mundane
Ordinary
Pesky
Plain
Pressured
Reliant on
Powerless
Stressful
Repetitive
Resource-heavy
Rough
Tedious
Time-consuming
Time suck
Unclear
Underwhelming
Undue
Unnecessary
Hook words
Didn't know you needed
Or so you thought
That might change your mind
Think again
Until now
You thought you knew
You didn't know about
Wish you knew about it sooner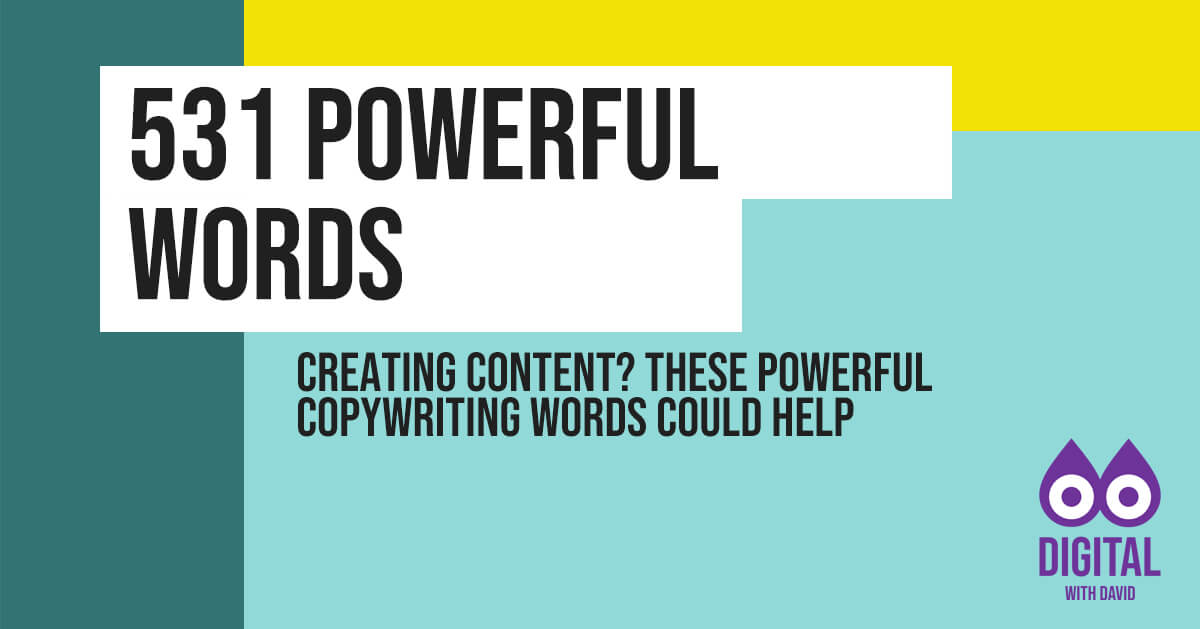 Original author / source: Unknown