What is content design?
Content design helps make your website content easier to understand, simpler to read, clearer to understand and faster to use for your customers. You should look at everything and think about everything but communicate the detail in a way everyone understands.
It is based on the principles of research, having a good understanding of your customers, analytics and constantly seeking feedback.
Content design starts with a user need (something your customer needs, or wants, to do) and presenting it in the best possible way.
What I do and how I can help
Whilst there isn't a 'one size fits all' approach, some typical content design tasks might include:
analyse how people currently use and consume content from your digital channels
map current use against your business objectives
define the content requirements
manage the story and its structure
search engine optimisation (SEO)
explore how much content you publish and either reducing or increasing it, depending on what you want to achieve
split large pieces of content into smaller, easier to read, sections
change the style and tone of your content to it resonates betters with your users
remove and archive content that is old or has no tangible value
ensure there is a clear link between all your channels, for example your website, email newsletters and social media
create a content maintenance plan
help you focus on what you're good at
Read more about what is content design

Get in touch
Interested in content design and want to find out more? Just fill out the contact form and let's have a conversation.
View contact details and get in touch
I'm sure I can help make your digital content better!
Why content design is important
Content design is important for the simple reason that you want your customers to have the best content experience possible. They are then more likely to stay longer, return more often and spend more money.
Loyalty is hard to win but easy to lose. Poor content design is inviting your customers to walk out the door and visit a competitor.
Examples
Parking Fines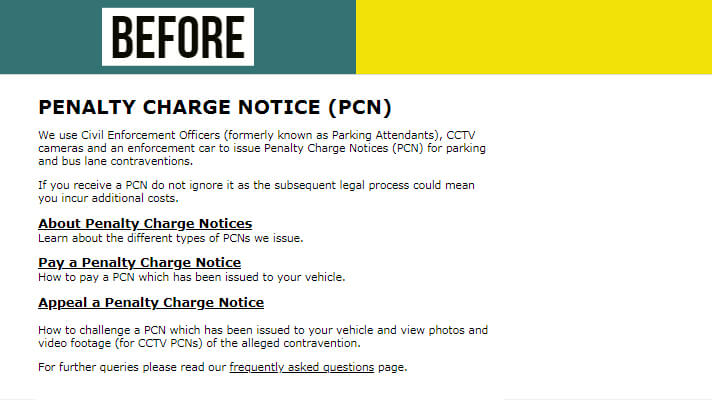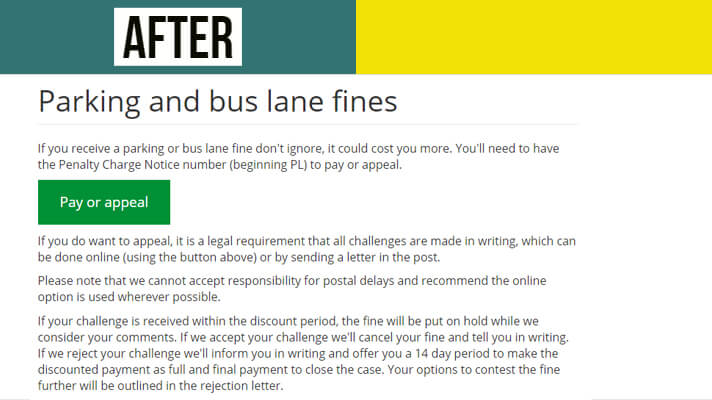 Why is this content better? Numerous, text-heavy pages, have been reduced to a single page. It contains a clear call-to-action, is written in a way the users can understand and takes into account the user needs for this specific task. Whilst paying a parking fine is never nice the content helps to make the process simpler and easier.
More about me
I have 21 years' experience in the web, digital media, communication and IT industry with extensive knowledge of idea conceptualisation, solution identification, project delivery and the complete digital media lifecycle. Read more.