OASIS is a series of steps that can help bring order and clarity to planning campaigns, which can sometimes be a complicated and challenging process. The aim is to help make the planning process simpler and easier to remember.
What is a campaign?
A campaign is a planned sequence of communications and interactions that uses a compelling narrative over time to deliver a defined and measurable outcome.
All government communications should be viewed in the context of a wider campaign i.e. what do we want to achieve and where does it fit in? This way we can ensure that all our work links to a clear objective and we can evaluate the impact of everything we do.
Objectives
Set out what the communications activity is intending to achieve.
Start with the policy aim and develop communications objectives that will deliver this. Include the role that communication will contribute to achieving the policy aim and the role that individual activities or channels will play in meeting the communications objective.
Objectives should be achievable, measurable – expressed numerically where possible, focused on outcomes not outputs and related to changing attitudes and/or behaviour.
Audience insight
Who is the campaign aimed at?
Do you need to change or influence their attitudes and behaviours to help you achieve your objective?
What are the barriers to change that your campaign can help to address?
Understanding your audience is critical to an effective campaign. It is important that we use insight to create a full picture of who they are and how they will reach a desired outcome.
Use your own commissioned research, data from elsewhere in government or publicly available information. If you are working on a large-scale behaviour change project, you should look at using the EAST framework to inform campaign planning.
Strategy/Idea
Use the insight to set out your approach.
You will also need to cover proposition/messaging; channels; and partners/influencers.
Map the audience journey and design communications relevant to different stages of the journey. Where possible test or pilot your approach to assess its effectiveness.
Implementation.
Once you have defined your approach, you should set out how you will deliver your communications and what tactics you will use. Develop a clear plan that allocates resources and sets out the timescales for delivery.
Bring influencers and partners on board to increase impact and use low cost approaches where possible; particularly PR and partnerships.
Scoring/Evaluation
You should monitor outputs, outtakes and outcomes throughout your campaign and evaluate once it is complete.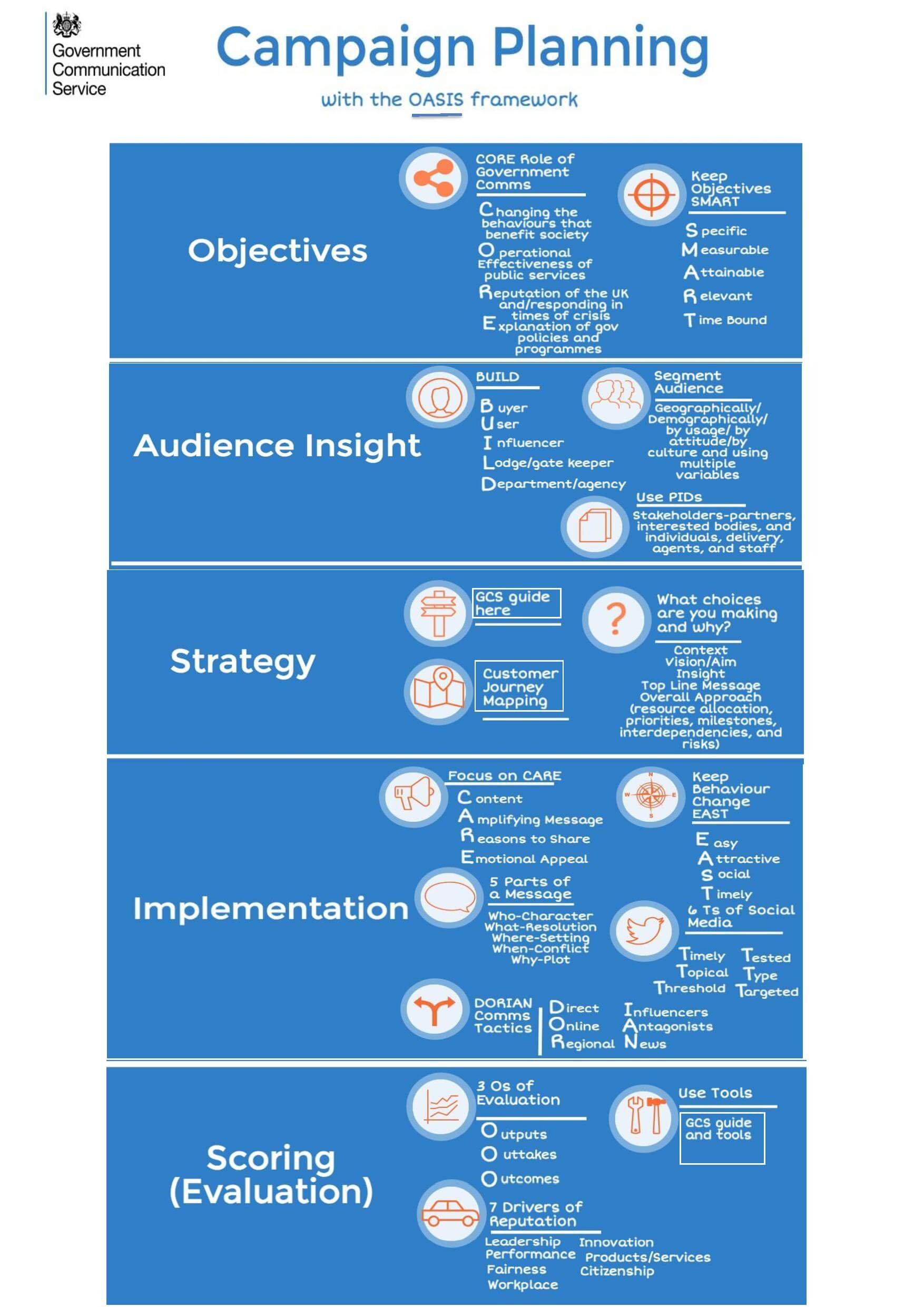 Original author / source: Government Communication Service